Gregory V. Gomez, MD Orthopedics, Orthopedic surgery,
Shoulder & Elbow Surgery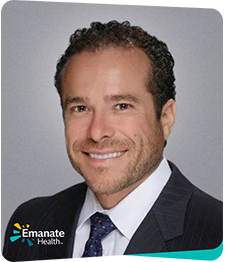 My philosophy of care is a commitment to my patients and their families to deliver care that is supported by the highest order of compassion, innovation, science and technology.
Facilities
Emanate Health Inter-Community Hospital
Emanate Health Queen of the Valley Hospital
Emanate Health Foothill Presbyterian Hospital
Groups
Emanate Health Medical Group
Insurance Accepted
Medicare
Accepted insurance can change monthly. Please call the provider's office to confirm that yours is accepted.
Medical Education
USC Keck School of Medicine
Internship
University of Texas San Antonio Health Science Campus
Residency
University of Texas San Antonio Health Science Campus
Fellowship
University of Pennsylvania
Shoulder and elbow reconstruction
Special Practice Interests
Specialties:
Orthopedic Surgery, Shoulder & Elbow Specialist
Clinical areas of expertise:
Rotator Cuff Tear
Stiff Elbow
Shoulder Instability
Biceps Tear
Adhesive Capsulitis of the Shoulder
Revision Shoulder/ Elbow Replacement
Shoulder Replacement (Anatomic & Reverse)
Fracture Care of the Scapula, Clavicle, Shoulder, Humerus and Elbow
Tennis/Golfer's Elbow
Elbow Instability
Acromioclavicular Fracture and Joint Separation, Sternoclavicular Separation, Scapulothoracic Syndrome, Ulnar Collateral Ligament Reconstruction (Tommy John Surgery), Ulnar Nerve Compression at the Elbow, Pectoralis Major Rupture Tendon Repair, Triceps Tendon Repair/Reconstruction, Superior Capsular Reconstruction, and Arthroscopy of the Shoulder/Elbow.
Awards and Accomplishments
Joseph Iannotti MD, PhD Award for Excellence in Shoulder & Elbow Surgery
Administrative Chief Orthopedic Resident
Resident Emerging Leader for the American Orthopedic Association (AOA)
Publications
2017:

Waetjen, E., Somerson, J.,

Gomez, G.

, Bagg, M. Upper Extremity Injuries in Airbag-Equipped Vehicles: Are Newer Vehicles Safer? Texas Orth. Journal 2017; 3(1): 35-42

2009:

Godfrey, J., Kayser, B.,

Gomez, G.

, Bennett, J., Jaque, S., Sumida, K. Interrupted Resistance Training and BMD in Growing Rats. Int J Sports Med 2009; 30: 579-584

2008

: Goettsch, B.M., Smith, M.Z., O'Brien, J.A.,

Gomez, G.V.

, Jaque, S.V., Sumida, K.D. Interrupted vs. Uninterrupted Training on BMD during Growth. Int J Sports Med 2008; 29: 980-986
To know more about Dr. Gomez, please visit www.shoulderandelbowmd.com